The summer of 2008 (Sept the 18), I revisited Cambridge again, now well equipped with audio podcast tour guide and becoming a tour guide for my mate too! Haha…
First, I introduced the Math Bridge… The urban legend has it that it was built based on the theory of Isaac Newton (which was a Cambridge Uni graduate) and without any nuts and bolts. And some naughty students not believing it disassembled the bridge, and can't re-assemble it back to the original form without nuts and bolts. Of course all these myths are not true, and I am amazed that there are actually some tour guide books take that fictional stories as facts! Haha!!!  More stories on wikipedia:
http://en.wikipedia.org/wiki/Mathematical_Bridge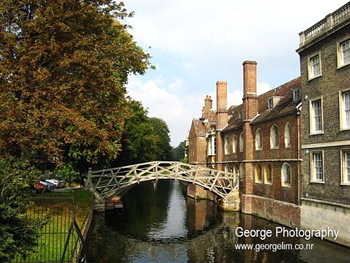 A visit to Cambridge this time will be fruitless if I didn't visit this pub called The Eagle… You might asked why? Haha, It is because it was a place where Watson and Crick always hang out while discussing the DNA theory, maybe over a pint or two of the ales! Woot! Bring on the beer, er I mean the theories! And the best part is that the pub is just in front of the lecture hall! How wonderful!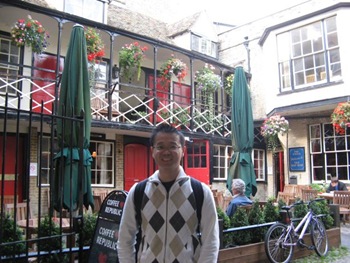 Me in front of The Eagle Pub.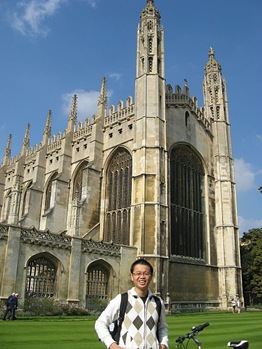 And I walked to the King's College.. This is the King's College Chapel.
I would personally recommend to pay a couple of quid to enter this chapel, as it has the world's largest Fan Vault Ceiling.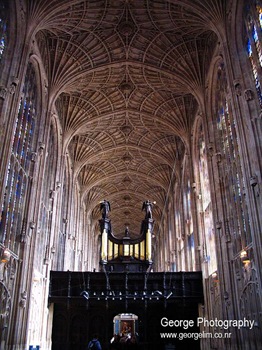 See what I mean? Notice the human there as a comparison. The view is simply marvellous!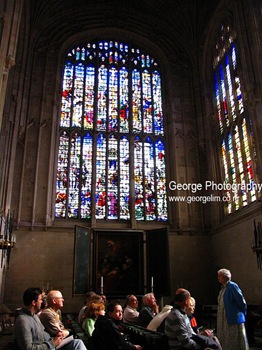 People listened tentatively to the tour talk.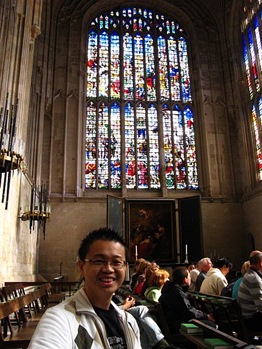 And me sitting far right from the crowd. I am not part of the crowd by the way… Haha!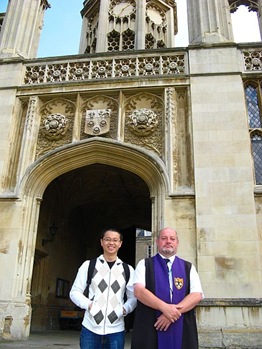 When I came out from the Chapel, I bumped into this warden, he is the person who responsible for the grass in the college ground! Yeah, so don't you dare to walk on the grass! You might get a penalty charge from him! Oh unless you are a professor in this university, which you can roam freely.(citation needed for this info)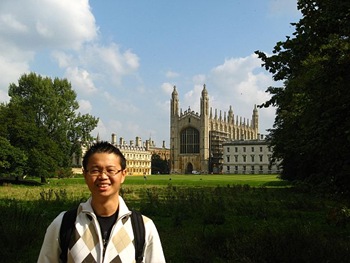 And we purposely walked to the world famous scene of all time in Cambridge—The Backs, with wonderfully sunshine and clouds!
After this, we went to the Gate of Honour.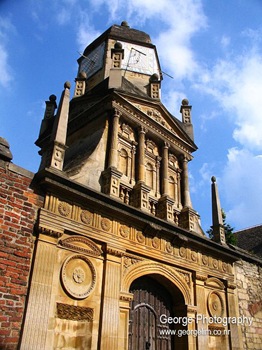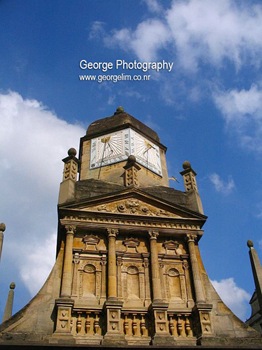 Wonderful summer breeze with clouds, produced a magical photo! Haha!
As it was a short one day trip, we quickly finished up the tour with a cam punting.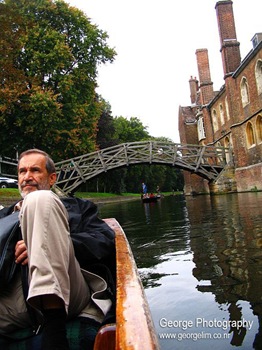 For those who fancy a podcast and map for the Cambridge city sigh seeing, why not take a visit to the URL below. It is completely free and put them in your mp3 player!
http://www.stridedesign.net/ShapeWalks/tour.aspx?rid=2050978&p=4&ix=4&pid=1&prcid=17&ppid=416