Waking up early in the morning, getting ready to roam the Saint-Germain-des-Prés area!
We walked to Église Saint-Sulpice, the cathedral which made famous by the Da vinci code novel! You have to appreciate the unique architecture of this cathedral as it takes more than 140 years to build!
Pardon the shabby appearance, it's currently under renovation. Stock photo from Wikipedia.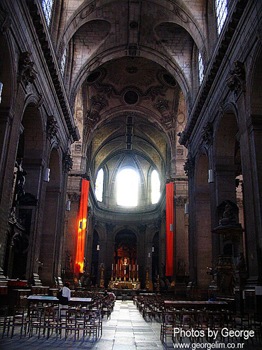 The interior of the building…
The story and explanation about the rose line is simply amazing...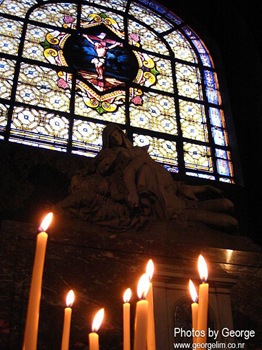 St Mary and Jesus
Ah, and of course we have to search for Eugène Delacroix's famous wall painting of the Jacob Wrestling with the Angel.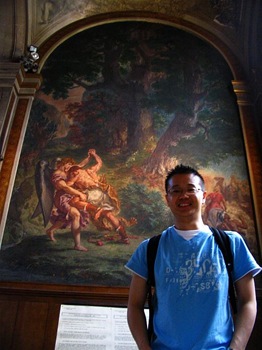 There you go!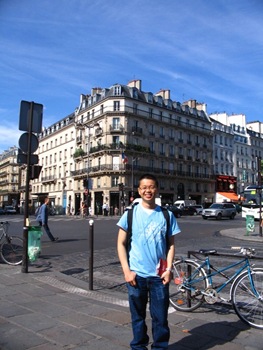 And this is taken while on the way to the Église Saint-Germain-des-Prés.
OK Église Saint-Germain-des-Prés here we come!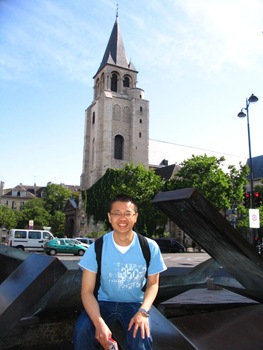 Me with Église Saint-Germain-des-Prés, the oldest cathedral in Paris!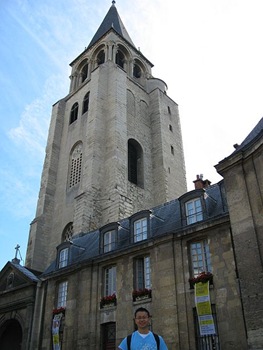 Another close look, with me at the bottom as comparison on how huge the tower is!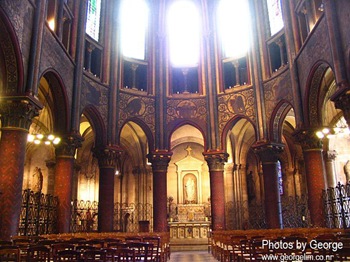 Interior of the church...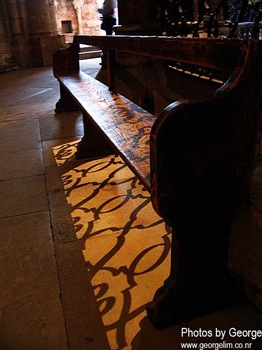 Moment of silent please…
As we heard about Chapelle Notre Dame de la Médaille Miraculeuse (Chapel of the Miraculous Medal), so we are eager to witness ourselves the miracle of this church. After a very long walk and map searching, we reached there!
The miracle story --- The story is about the young nun who seen the vision of The Blessed Virgin Mary and has been told to produce the medals to protect the Parisians from a dreadful incident which will happen soon at that time in 1830. So the medals were distributed among the believers. In 1832, disastrous cholera epidemic broke out in Paris and those with the medals were spared and those patients who got on hold of it are cured, hence the medal are named the miraculous medal. As Susan R. Norton has pointed out on her website, thousands of medals have been distributed to believers around the world, not as a lucky charm but as a symbol of faith and love.
Oh another miracle thing is that when the nun passed away, her body is still preserved and incorrupted. It's being displayed in the glass case now in the church.
More reading:
1) http://www.sacred-destinations.com/france/paris-chapel-of-miraculous-medal.htm
2) http://www.fisheaters.com/miraculousmedal.html
Oh, and guess what, I have the medal now too! So happy!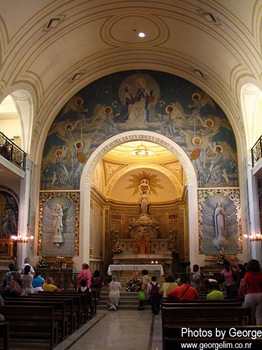 Inside of the church with worshippers.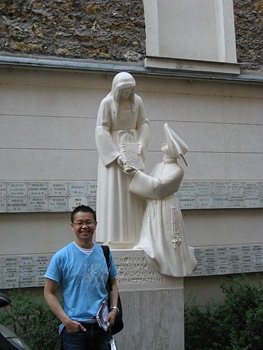 The receive of the enlightenment from St Mary…
After this where are we going? Stomach hungry at that time too.. Hehe… Do come back for more stories and photos! =)