Next up! We embarked on a very educational historical trip --- Museum Island! It is UNESCO certified world heritage. Entry fees is not cheap, 6 Euros, but include the audio guide. But I should say, it worth every single cents of it! As there are a total of 4 museums in the island,we chose only 2 to visit (mind you, you have to pay each museum the entrance fees!) and the time is not on our side at that time!
OK, First Museum-- Pergamon Museum!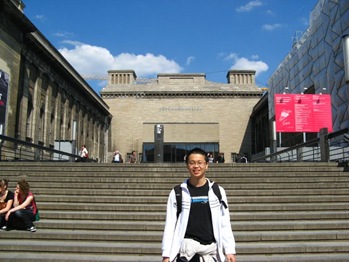 I was stunned and amazed once entered the museum! I was greeted by almost 2 storey high real exhibits of a Greek temple (Pergamon Temple).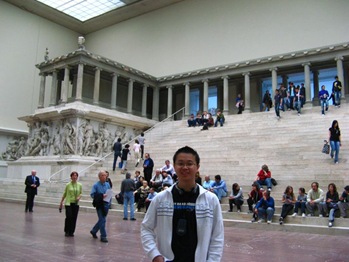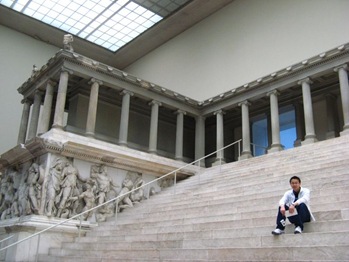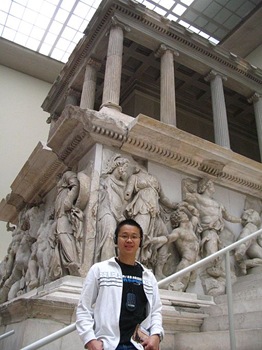 Its staircase leads to the centre of the temple where many other Greek Mythology sculptures were situated. It was simple amazing!
There are other attractive sculptures and exhibits too, and I spent more than 3 hours just to briefly walked through the place!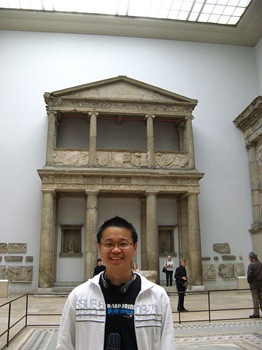 Oh another attractive exhibits of the museum! Is the Ishtar Gate from city of Babylon, Mesopotamia civilization time. The gate was extremely huge and colourful, with dragons and horses made from tiles.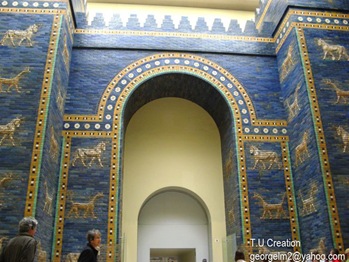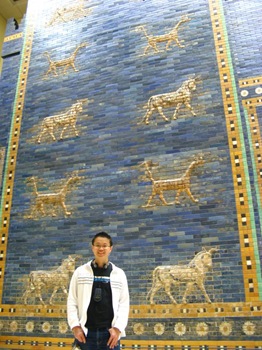 It is HUGE! So huge that I nearly sprain my neck trying to get a good look on the top! Mind you that it is a real artifact that relocated to this museum as well...
As we were so tired of walking in that BIG museum, we went out for fresh air and take a look at other museums, only the buildings, not going in as it took too much time to go through all of the exhibits!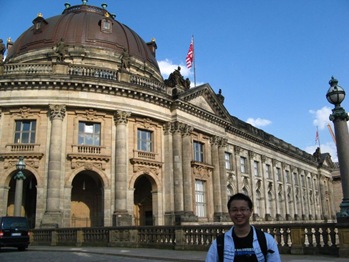 Bode Museum
Oh, one nice thing about Berlin museums is that every Wednesday after 6pm, almost every museums in the museum island are offering free entry. Please do note that some are not, check the Berlin Tourist Office website for more info.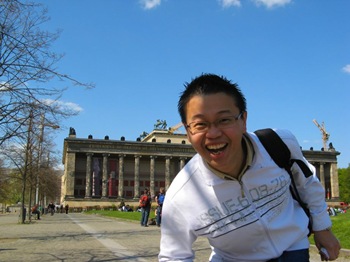 This was taken in front of the Egyptian Museum. A day before we went in. Haha...
we took that opportunity to visit the Egyptian museum for FREE, but we were stripped of the audio guide! So, either we have to learn German writing in 15mins or we have to guess what it actually exhibited. I picked the Option 2. LOL! Guessing is so much fun than just reading the description... Well, it's not at all bad, some important exhibits actually have english description and it's not in broken english either. Very Impressive!
After so many miles of walking, we were so exhausted that we lie down on the grass at Lustgarten, which is in front the Berliner Dom, just like what the other locals did!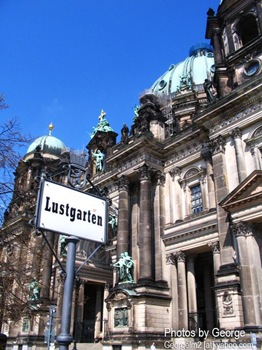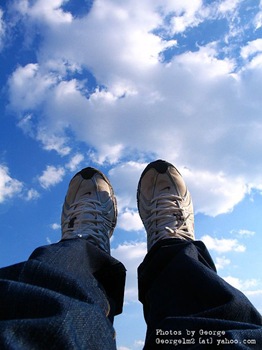 God's Eyes View??
we rested enough, went to Adenaplatz for dinner and went back to the airport.
We said goodbye to Berlin and head back to England! Ah, home sweet home! Finally people understand my English. =)