After traveled around UK for more than one year, it is finally time to step out of the English speaking country, well just for a few days to experience the totally shocking (language and perhaps culturally) experience! Trust me, I got more than what I bargain for! =p
All thanks for Ryanair, I got an extremely cheap return flight tickets (can't even say it's dirt cheap because it is cheaper than dirt!) at a cost of 2 pounds include tax. Destination: Berlin, Germany. Very happy about it.
OK, boarding from East Midlands Airport is not as smooth as I could imagine as they kept changing the departure gate, but well, at least I didn't took the wrong flight and landed in Paris, which in fact nearly happen to me!
After almost 2 hours of flight, We touched down in the German soil.. Already feel bit weird, because I can see clearly the highway from inside the plane... the cars were driving in a different directions...And I saw this once I reached the airport... OMG! No idea what it said.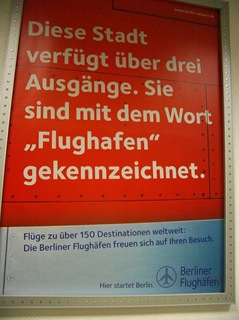 Err... Means Berlin Flight??
We quickly took the U-Bahn to the city after the arrival as we worried that it will be the last train to leave the airport. Throughout the journey in the train, we were constantly bombarded with announcement in German.. Only understand one word= Thank you in German,
Serious hurdles hit us before we knew it. The S-Bahn that supposed to take us straight to the Charlottenburgh Station started to go backward after reaching one of the city station (halfway to the hotel). I jumped out of the S-Bahn on the next station, trying to be in style and as smooth as James Bond, but failed miserably to impress the German girls in the station. Maybe Jams Bond is not popular in Germany. I tried to ask around for directions in English to a German girl, she smiled and spoke to me in a thick German accents,: Little English". Oh great, at least she understood my English with faux Brit slang. Haha...We pointed, waved and drew lines on the map to indicate places and which place we should go. She has been very helpful. I am really impressed on how brave she was to talk to strangers in a foreign language she doesn't even understand well.
When reached the hotel, I was so tired and dozed off.... Next day. the parliament. I know this post might be a little bit dull, but don't worry, Next post up will have more photos and I promise cool photos. Haha, so watch this space.