After almost a week of listening and juggling between so many genre of music through this new earphone that I bought, I found some strong points and weak points of this critically acclaimed Sennheiser Mx-51 earphones. And it costs me 10GBP only from HMV.com, inclusive of P&P.
Upon receiving the set of earphones. You can't help but admiring the beautifully designed earphones and it's shining earphone storage box.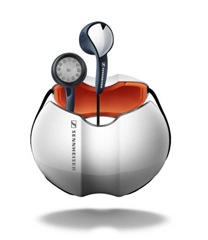 The full set of earphones without the ear pads on them.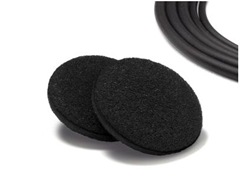 Supplied earpad
I am happily give them a 9 out of 10 rating on the designs on these earphones.
Sennheiser boasted its new Basswind System for powerful bass response and Ergonomic design that ensures optimum fit. While I happily open the package, I read from the manuals in the plastic case recommended putting on the ear pads for optimum performance from the earphones, so I did. The fitting on the ear need a while to get used to, as you can see from the photo, the shape of the ear buds is a bit different from the conventional earphones.
I test drive the MX-51 using Creative Zen Micro and also my the onboard sound card from my laptop. I feel tempt to test the earphones using my ever so cool sound blaster live! sound card, but it is about 8,000km away from me now. So no chance at this current moment.
I use different genres of songs in MP3 format to evaluate the earphones quality. Some of the songs are: Hotel California (Live with Eric Clapton as the guitarist); Love stoned, What goes around ( Justin Timberlake); Motorcycle, Rain came down to me, cosmic train by DJ Tiesto; latest album of LeeHom, Xing juo by LeeHom, Killer and K.O. by JJ Lin; Many songs from David Tao and his concert recording; Linkin park songs, some random hip hop songs.. just to name a few. All MP3 are encoded in the minimum of 160kbps 44kHz, with most of the songs are in in 192kbps and 44kHz.
First impression when listening to this Sennheiser is just WOW!!! The bass is so rich, it can really go real LOW, I mean really low, the deep thumping bass, which is better than my Sony MDR-G64. I listened to Hotel California Live with these 2 earphones side by side as comparison. The congo drums are really distinctively lively in Sennheiser. Not bad for an earbud in a small price. The sound leaking is minimal too if compared with the MDR-G64.
But my good impression started to be spoilt when the eagles started singing and when it is in the part where Eric Clapton's guitar plugging is being highlighted. The treble output from this earphone is so bad.. so bad that I have to adjust the EQ of the treble to the max to get an acceptable clarity. The mid is flat, without any warm in it. The sound stage is very disappointing too; it is not wide enough... I tried other songs as listed above with the same disappointing results. What makes me really frustrated is that the artists vocal is so blur and muddle! Mad at how it makes LeeHom and David Tao vocals sounds in the slow numbers sounds like singing with the clothes on the mouth! David Tao Soul Power Concert recordings which I always enjoyed became really difficult to listen to...
I tried to adjust the EQ on the Zen Micro with little success to rescue the muddle effect of the artists' vocal. Finally, I decided to give the Sennheiser another try, this time without the earpads on! OK, now it sounds much better! The treble, mid and sound stage have drastically improved! It really give me back that satisfaction of listening to live music. However, I can notice the decrease of the amount of the bass output. Well, I prefer the vocal and treble over deep low bass, so it is still bearable. But afraid not, the bass is still there, just not as rich when I put on the ear pads.
I tried playing some classical renditions with these ear buds too as I do listen to classical music occasionally. Even though the ear phones manage to follow faithfully the orchestra play, I can't feel the "warmth" and "richness" needed to reproduce the real feel of the whole songs.
All in all, it is a very value-for-money ear phones if you compared it with other ear phones that is sub 10GBP. I do compared it with my MDR-G64 which cost around 23GBP, and it almost reached that kind of music reproduction quality.
Final words,
1) Great for most of the music genres, except for classical songs.
2) Big Bang on the Small Price,
3) Want a extremely high clarity sound reproduction? Please look else where.. Sony MDR-E888, Sennheiser PX-100 and Yuin PK-1 or PK-3 are some of good earphones. BUT, for those fashion conscience people, I personally think only Sennheiser MX-51 and Sony MDR-E888 can do the fashion statements. YUIN design looks exactly like cheap made earphone, but with an extremely high price ( Prepare to pay 100GBP for it!). Sony MDR-E888 costs around 30GBP..
That's all for my new ear phones review!