This will be the most exciting night ever for the whole welcoming week! Oceana dance club outing with the newbies! Woot! We are so excited by it until some people forgot to bring their ID!
Another exciting thing is that due to the fact that we are the student assistants, we got the express gone through passes just like celebrities or VIP. No need to Q up and check for ID. Express i mean, no Q, no hassle. Exciting.
ISB booked 2 double deckers to scoop all our people to the club. And some people went trigger happy with their cameras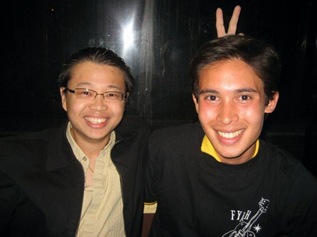 Me and Phil in the bus.
As we reached there, we are ushered into the club through the express lane. Woot, the bouncers has to let us pass as we are DA MAN!!! Haha... In the club, it is so freaking hot! I mean hotter than usual! disco lights, smoking effect and dance lights surrounding us, thumping music from the speakers are blared out loud! Dance music! Hip hop! Woot! We dance our heart out!
OK, no videos being taken, so let me show you the photos instead...
No need to explain much, the photos most of them explain themselves for me. We had so much fun..... wish we can get another round of oceana next time, VIP style...