Yeah it is a lazy Sunday special again.. for me at least... I lay in my room, reading a bit of my handbook for dissetation writing style, cook my self a DIY noodles with eggs, talk to friends over the phone, play old school games, which I finally got my hands on. Hehe..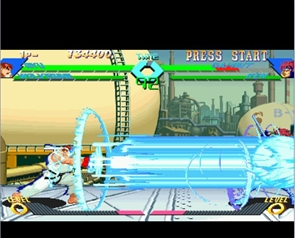 Street Fighter.. yeah... LOL!
A lazy stroll to the uni lake with Ceri, an crazy talk with Rourri after that in the kitchen while I'm baking my chips. And watched a movie on my bed before going to sleep. See, how lazy am I for today?
Oh right, I have the URGE to introduce you to Patrick Teoh Blog,http://niamah.blogspot.com/ pretty cool! Talking all the facts that happen in Malaysia in COLD HARD WORDS!!! Kudos! He is one of the only few that dares to voice out the discriminations from the Malay to other races openly! A must read to those who think It is a wonderful world in Malaysia. P/s: Not for the patriotic Malaysian though... It might destroy your patrotism. Sorry mate, I have sworn myself to be loyal to the Queen, so please don't tell me to be patriotic to Malaysia.