After going through one of the toughest exam and my last exam in my life today at 1400 in MOL2, I felt relieved that this is in fact the end of my exam life. No more memorizing those stupid drugs name and no more weird cytokines names.
But in contrary, I enjoy every moment of the stuggle for the preparation of my exams, no worries about job, money and research.. Just concentrate on the papers, journals reading and trying tons of different ways to get the information into my head, which is fun! Oh now I am crazy... LOL...
I have promised Anu that I will accompany her to the library in the night so here I am in the PC lab nearby to the medical library. 30 minutes earlier, had a glass of red wine with Ceri to celebrate the end of my final exams and catch up with her. She is the person to look for when you want to enjoy a glass of red wine, she is the red wine girl-- who loves and appreaciate a glass of good wine.
Talking about wireless Fidelity, I am so frustrated by the fact that it didn't have a wifi connection in this room! Well hell yeah, telegeneration wifi zone, well in fact the signal is too low to even get my laptop connected. Boo... I know there is a "small" space in some corners of the library which has the wifi connected, but the library now is more crowded than the london underground at the peak hour. Every single chairs is occupied by medical students. Definitelty is a rare scene to behold. Oh, look at the blonde with the mini skirt.... oh sorry, I am distrated. =p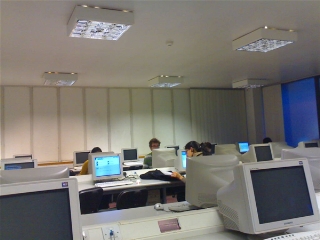 The old PC room with CRT monitors and no WIFI!!!
Now returning back to the library PC room, a bit better in terms of air circulation, brighter and with LCD monitors, but still.. NO WIFI!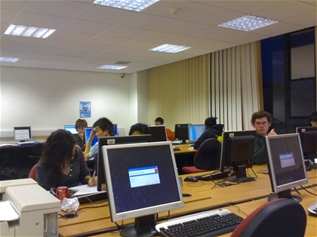 Rooms with no wifi again...