This week experiments seems all getting hay wires. Apart from the OK looking LDH cytotoxicity assay, the flow cytometry tests didn;t hit the ideal events of 50,000; the 72hr NK cells in incubator seems to be missing in actions, can't get the ideal millions cellls in the 96 wells. Fuyoh.... Well, just as what Rich said, it sometimes happen. It did happen and I don't want to repeat it again. Been troubleshooting since morning till now. Identified some area which I need to take extra care of. Well, today marked the start of the study week for me. Exam is coming soon, I meant very soon!

Oh well, Nina gave me a new 1GB pendrive. She thought I might need it for recording my lab data and PDF... Well, it is kinda a surprise for me. Even though it is a lab property and I might need to return it after I graduate, but I don't dare to tell other coursemates as this might cause jealousy...haha, except for Johnny and Kailyn ar... think they might peep into this blog once in a while...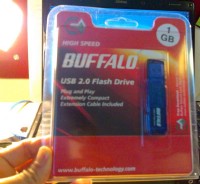 Having doses of F.R.I.E.N.D.S. since last few months to make myself laugh...haha! Well it is a tiring day and all I wanted is a good laugh and the short series fit the bill. It can make me laugh and it will end within 1 hour. Since I almost finished watching all the F.R.I.E.N.D.S. episodes, I found Ugly Betty seems to be able to replace the laughter doses. Have been watching it for a few days. The first few episodes looks like a spoof from The Devil Wears Prada. Well, almost... just that Ugly Betty portrayed it better. Originally I wish to d/l Malcolm in the Middle, but there are no resource around, and Scrubs is not my favorite one (not sure what makes Ashley so glued about it). Hope that I can find something funny to watch....
Song listening to: Hotel California -- The Eagles