From Alice in the wonderland to Lord of the ring, and with the Harry Potter shooting location to boot, this is the wonderful world of Oxford. Famous not only as a place for inspirations for JK Tolkien (Lord of the Ring author) and Miss Potter, Oxford is no doubt the centre of academic excellency.

I got a golden chance to pay a visit to this classic yet intuitive place on February. First destination I came across is the famous Christ Church College, Oxford University. A total of thirteen British Prime Ministers received their education here as well as Albert Einstein!!! The charm of this College also attracted the director of Harry Potter to shoot on location here.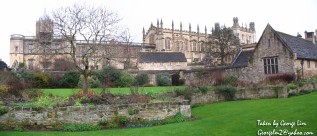 We did visited the Bodleian Library, which is one of the oldest libraries in the world. But due to the extremely time constraint, we didn't pay the entrance fees to get in there.. A bit regret later on. =/
We stumbled upon the natural science museum which is just opposite the Blackwell book store and decided to spend the rest of our time there. Once we got in, we are surprised on how many valuable clocks work being displayed here, all in working condition!!! Saw one wall clock which date back to 17th century and it is still working perfectly! Alarm clock at that time? WOW, it is mind blowing...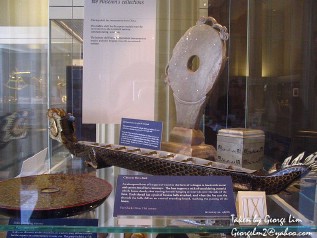 China made clock in dragon shape. It uses joss stick to count the time.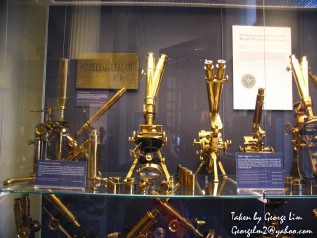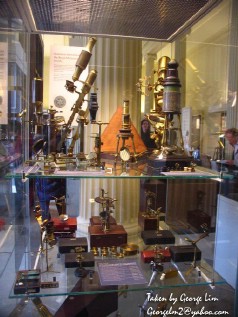 Some of the amazing collections of compound microscopes. Not sure whether it is gold plated though... Hehe...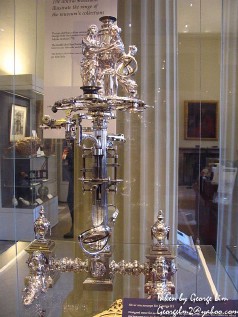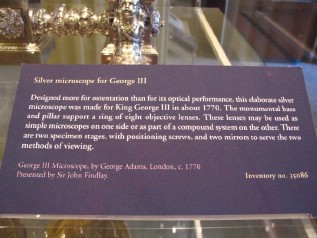 Microscope made especially for King George III. Amazing!!!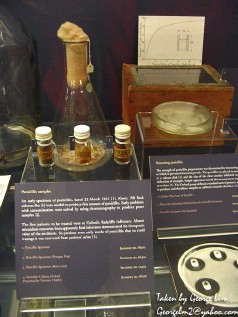 The first Penicillin culture in Britain. It is being used as a antibiotic in the army camp.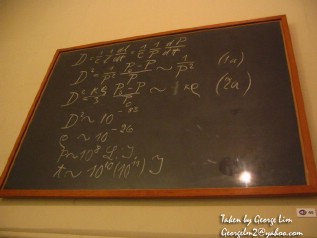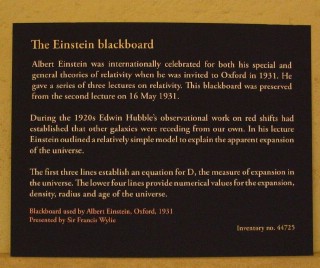 Albert Einstein Writing on the black board! This is the highlight of the visit in the museum! I am actually facing the actual writing of the Greatest Genius in the world!

A visit in the museum is like taking a history class in scientific discovery. I am amazed on how science has evolved. From compound microscope to Electron microscope, from the raw penicillin to chemical derived penicillin and other better antibiotics, from the Theory of Relativity of the creation of nuclear power. (not that i support nuclear power), but it all being displayed in front of you. And it is REAL! Not diagram on books, it is real samples here in front of you.

Next destination is the Blackwell Bookstore. It amazed me on how huge the bookstore and the layout is really interesting and a sight to behold!
His theories in a nutshell:

Darwin's theory is based on key observations and inferences drawn from them:[3]

Species have great fertility. They make more offspring than can grow to adulthood.


Populations remain roughly the same size, with modest fluctuations.


Food resources are limited, but are relatively stable over time.


An implicit struggle for survival ensues.


In sexually reproducing species, generally no two individuals are identical.


Some of these variations directly impact the ability of an individual to survive in a given environment.


Much of this variation is inheritable.


Individuals less suited to the environment are less likely to survive and less likely to reproduce, while individuals more suited to the environment are more likely to survive and more likely to reproduce.


The individuals that survive are most likely to leave their inheritable traits to future generations.


This slowly effected process results in populations that adapt to the environment over time, and ultimately, after interminable generations, the creations of new varieties, and ultimately, new species.

Browsing through some old books as well ( dating back to 17th century). It is an unbelievable experience.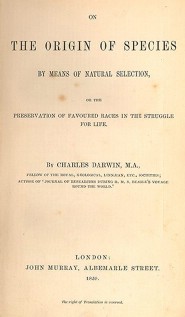 ( taken from wikipedia)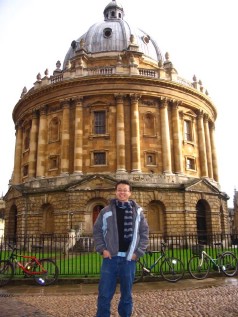 Oh, last but not least, Definitely have to snap photo in front of the Radcliffe Camera! It is the landmark of Oxford and it is a Library built in 1748 in the Palladian style.

The whole trip is a fun one. How I wish I can have another chance to pay another visit to this beautiful city. I will come to Oxford again...